-----------------------------------------------------------------------------------------------------------------------------------------------------------------------------------------------------------------------


Making CADD items your own

Updated 3/2/08; photos of individual items coming soon

I have from one to about a hundred of a style. If there is a number after, that means I know how many there are. Photos are at the bottom of the page.

PAGE TOPPERS:
#1 kid
50th anniversary
1st grade
2nd grade 7
3rd grade 1
4th grade
5th grade
6th grade 1
All American Kid
All Bundled Up
At the Park
Baby Face 3
Baby Shower 4
Back to school (kid writing style)5
Backyard BBQ
Baseball 18
Bathing Beauties
The Best Man
Big Game (football) 11
Birthday Boy
The Bride
The Bridesmaids 3
Bus Stop 3
Busy Bee 6
Cake time (birthday type)
Country Girls
Cutting the cake (wedding type)
Deck the halls 1
Dolls in Denim
Family fun 1
Family reunion 1 newer style, 3 older style (has watermelon)
First steps 2
Flower girls 2
Football
Fourth of July 1
Friends 3
Fun and friends 1
Golf
Gone Fishin'
Grandfather
Grandmother
Grandma's little pal 2
The Groom 3
Groovy Chick 1
Haircut 1
Handy Helper (tools) 1
Having a ball 2
Helping hands (cooking and gardening images)
Hiking
I Dig Dirt 9
Just Hangin' out 5
Just Married
Kindergarten
Kitchen helper 1
Legacy of Love 8
Let's Celebrate
License to Drive
Lil Cowpoke
Lil slugger
Making History
Marriage Certificate 2
Middle school
Milk and cookies
Mother's Day 2
My (check symbol) up 1
My favorite things 1
My first day (pink)
My first day (blue)
My first haircut
My teacher 1
Once Upon a Time 14
Ouch 3
Our announcement
Our old house 2
Pals (daisy style)
Pals (patchwork) 3
Picnic
Picture perfect
Pig pen
Reception 3
Recital
Reunion
The Scholar 3
School days pennant and saddle oxfords 4
School friends
School program
Simple Pleassures
Skate boarding 1
Slumber party 1
So Big! 3
Sports Nut
Spring break 4
Strike (bowling) 3
Summer camp
Tee time
Teen Scene
Three generations
A time to remember 11
Timeless Traditions
To have and to hold
Toadally awesome 4
Two by two
Tubby Time
The Wedding Cake
The Wedding Party 1


PAGE PIECES (printed, colorful die cuts)
Bottles and bandages 5
Fish & Kitties (actually has one each cat, dog, fish)3
Happy faces (not "smileys" - kid faces) 7
Home Sweet Home (welcome mat, plants in pots) 10
Makeup madness (mirror, lipstick, eye shadow) 37
School days (old time looking) 41
Tool time (hammer, screwdriver, nails, screws) 38

Sample photo of Page Pieces: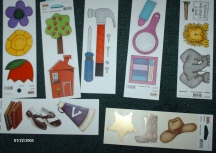 Below are some samples of how you can alter the Page Toppers. I don't know how to place text besides the photos. So, here are the techniques used (regular topper is shown on the left, altered one on the right):
Top photo: There are a lot more possibilities if you use one of the techniques on a different topper, or attach a page piece or other die cut, etc.
Legacy - vellum overlay
Groovy - small paper piecing on top one, sponged ink on bottom
Golf - sticker letters added
Once upon - glitter added
Reunion - letters cut out and attached vertically
Three Generations - trimmed around topper shape, mounted on cardstock and trimmed again.
My first day - trimmed in rectangle, mounted on cardstock and trimmed again.

2nd photo:
First four have tags or danglers added.
Our Announcement - torn; simple heritage adaptation.

3rd photo:
Timeless - trimmed, sewn to cardstock mat
Days Gone by - just trimmed!
Dolls in Denim - Top is trimmed and mounted on plain color mat; bottom is trimmed and mounted on patterned paper mat
My First Haircut - added a yellow scrap that says "Homemade" (could be self-inflicted, LOL)
4th grade - top has letters outlined with marker; some of the letters also have patterns (dots, stripes, etc.) added with marker. Bottom - 4th was cut off; has marker words "Making The"
Cake time - trimmed off "Time" and wrote in "Having my"

If you have any ideas you want added, please email me Email us Thanks!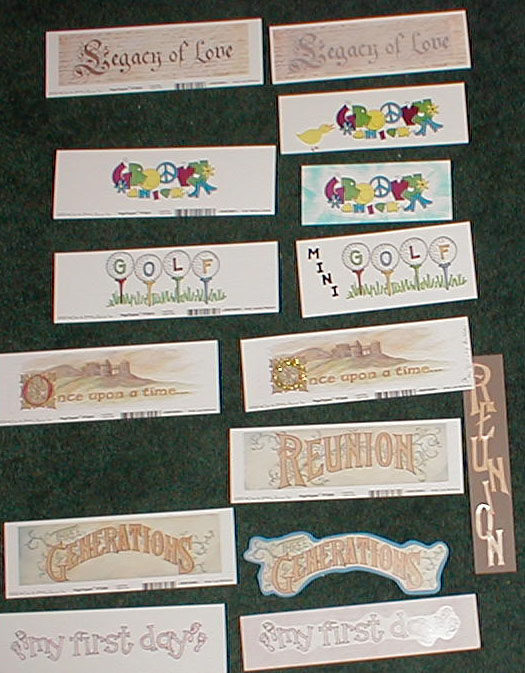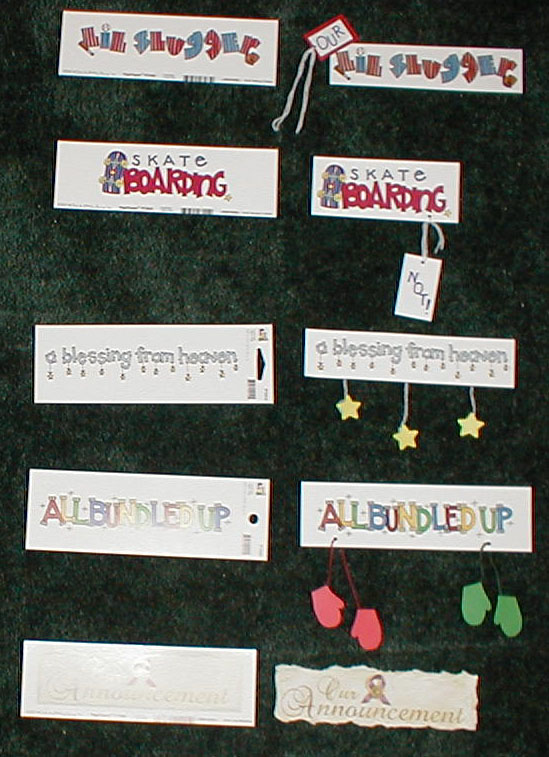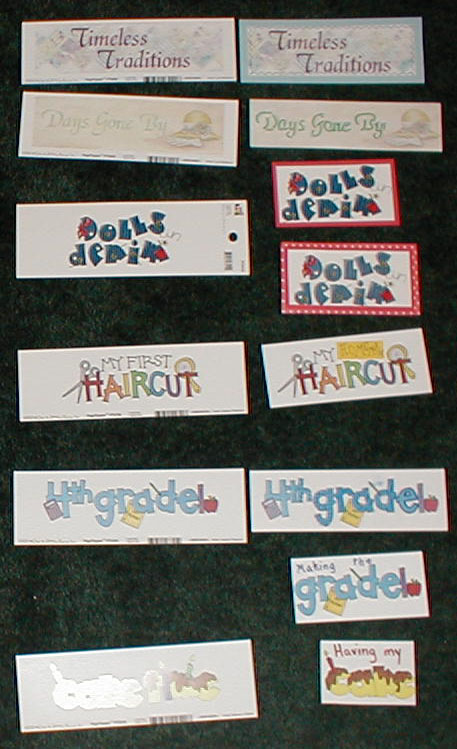 Click here to email

Home



-----------------------------------------------------------------------------------------------------------------------------------------------------------------------------------------------------------------------